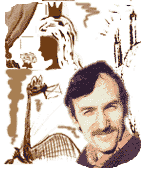 "A long time ago, in a kingdom among many kingdoms..." The strict contours of the room thaw... you sink into the world whose name is Fairy Tale. It is similar to the first chords of some beautiful lost melody. And only when the magic clock strikes twelve do you wake up and say as Alice: "Ah, how long I was asleep!"

Which century is on the yard? Is it the 17th or the 21st? Fairy tales live their own life, by their own time. Some of them are thousands of years old, others were born quite recently - for example this very morning..

I know some places where fairy tales are born. Let's go carefully to their cradles and fasten our eyes upon present-day fairy tales...

I have been helping people to see the fairy world for a long time. My first fairy tale was written when I was a six-year-old boy. At first people didn't notice my works, but I have grown and my fairy tales have grown...

In 1997 - I signed my first literary contract with the newsletter "New Aquarius". According to that contract every week the newsletter received a fairy tale for its new issue.

In January 1999 I took third place and won the Prize of Audience Favour in the online competition of Russian fairy tales

In January 2002 I became the first runner up of the Christmas poetry contest (Poetry club / Literary Angels).

Here you can become acquainted with some of my fairy tales, fiction, poems and a game scenario.

I'm glad to receive your comments by e-mail. If you have some commercial offer please contact Mrs. Shannon C. Wendler (my literary agent).